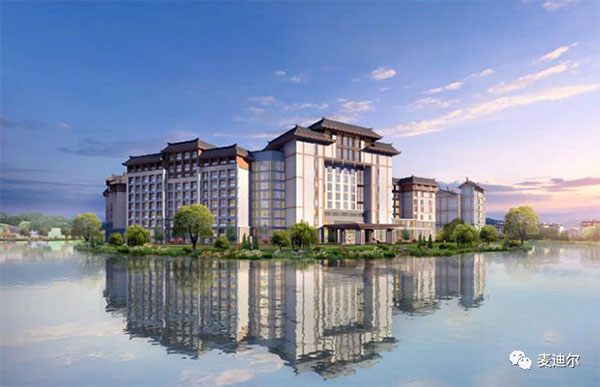 Wanda Realm Chongqing Sunac is located in Xiyong, Shapingba District. It is a group of island-style star hotels in the main urban area. It is surrounded by lakes and has an elegant environment. The hotel is about 5 kilometers away from the highway intersection and about 3 kilometers away from the light rail station. It is convenient for driving and public transportation. The hotel is located across the lake from Sunac Mao and the park, enjoying a one-stop shopping and entertainment experience.
Wanda Vista Hotel has 78 sets of six-star luxury villa hotels, supporting all-day dining restaurants and Chinese restaurants (11 private rooms, accommodating 146 people). Wanda Realm Hotel has 262 five-star standard rooms and an all-day dining restaurant (with VIP rooms, which can accommodate 228 people).
All rooms have large viewing balconies with a wide view. You can choose from garden, river and lake views. The hotel has a variety of uniquely designed room types suitable for all types of families, teams and business receptions.
The indoor children's playground of over 200m² is an excellent place for parents and families to live. The hotel's banquet hall is nearly 2,000 square meters, not only has large built-in LEDs and advanced conference hardware facilities, but also diversified indoor and outdoor venues such as banquet halls, natural lawns, and lakesides that can enter and exit vehicles, creating a new landmark of Chongqing hotel.
Wanda Hotels & Resorts owns five major hotel brands: luxury hotel-Wanda Reign, luxury hotel-Wanda Vista, high-end hotel-Wanda Realm, high-end boutique hotel-Wanda Jinhua and super mid-range hotel-Wanda Meihua. Wanda Hotels and Resorts currently has 84 hotels in operation, and more than 90 hotels in preparation and pending opening, covering more than 100 cities worldwide.
Wanda Realm is a high-end hotel under Wanda Hotels and Resorts. It provides high-quality, efficient and comfortable international services for business travel and leisure guests, and provides a high-end hotel brand with a peace of mind.
---
Post time: Aug-10-2020